LATIN AMERICAN PERSPECTIVES
is a theoretical and scholarly journal for discussion and debate on the political economy of capitalism, imperialism, and socialism in the Americas. For more than forty years, it has published timely, progressive analyses of the social forces shaping contemporary Latin America.
MISSION: To encourage class analysis of sociocultural realities and political strategies to transform Latin American sociopolitical structures. We make a conscious effort to publish a diversity of political viewpoints.
BLOG
LATIN AMERICAN PERSPECTIVES: a scholarly journal
LAP Journals (six per year) are grouped below in a slider (click arrows).

For more information, to view contents or to purchase an issue – click on the journal.

To view or purchase from the entire collection from 2007 –

CLICK HERE

.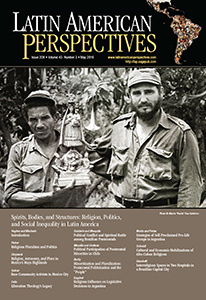 Spirits, Bodies, and Structures: Religion, Politics, and Social Inequality in Latin America
May 1, 2016
— CONTENTS —

English
Issue Editors: Jennifer Scheper Hughes and Maria das Dores Campos Machado
This issue returns to consider the theme of religion and social inequality and the social movements that seek to address religions' ambivalent legacy across the continent. The articles take up a materialist approach to the subject of religion—they are concerned with the poor and disenfranchised, and not just with their beliefs and religious practices but also with their bodies and earthly fates. Liberation theology continues to shape the political landscape of Latin America, and numerous religious transformations are taking place which may be understood as the afterlives of liberation theology.
View large interactive map – click here.
LATIN AMERICAN PERSPECTIVES:
A Journal on Capitalism and Socialism