LATIN AMERICAN PERSPECTIVES
is a theoretical and scholarly journal for discussion and debate on the political economy of capitalism, imperialism, and socialism in the Americas. For more than forty years, it has published timely, progressive analyses of the social forces shaping contemporary Latin America.
MISSION: To encourage class analysis of sociocultural realities and political strategies to transform Latin American sociopolitical structures. We make a conscious effort to publish a diversity of political viewpoints.
BLOG
LATIN AMERICAN PERSPECTIVES: a scholarly journal
LAP Journals (six per year) are grouped below in a slider (click arrows).

For more information, to view contents or to purchase an issue – click on the journal.

To view or purchase from the entire collection from 2007 –

CLICK HERE

.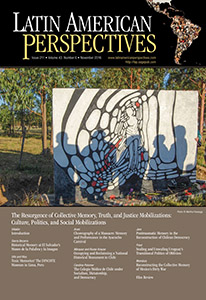 The Resurgence of Collective Memory, Truth, and Justice Mobilizations Part 3: Culture, Politics, and Social Mobilizations
November 1, 2016
— CONTENTS —

English
Spanish

Edited by: Roberta Villalón

A second wave of memory, truth and justice mobilizations has been spreading in Latin America since the turn of the century. This issue is the last of a three-part series. Articles explore how artistic and cultural expressions help collective memory making and justice seeking in El Salvador, Peru and Chile, others textures of truth, reconciliation and justice processes in the countries of Chile, Uruguay and Mexico. Theoretically, the scholarship of this issue distinctly contributes to the body of literature on uncovering epistemological perspectives .
View large interactive map – click here.
LATIN AMERICAN PERSPECTIVES:
A Journal on Capitalism and Socialism