LATIN AMERICAN PERSPECTIVES
is a theoretical and scholarly journal for discussion and debate on the political economy of capitalism, imperialism, and socialism in the Americas. For more than forty years, it has published timely, progressive analyses of the social forces shaping contemporary Latin America.
MISSION: To encourage class analysis of sociocultural realities and political strategies to transform Latin American sociopolitical structures. We make a conscious effort to publish a diversity of political viewpoints.
BLOG
LATIN AMERICAN PERSPECTIVES: a scholarly journal
LAP Journals (six per year) are grouped below in a slider (click arrows).

For more information, to view contents or to purchase an issue – click on the journal.

To view or purchase from the entire collection from 2007 –

CLICK HERE

.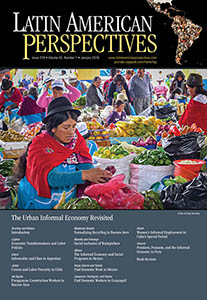 The Urban Informal Economy Revisited
— CONTENTS —

English
Spanish

Edited by:
Ray Bromley and Tamar Diana Wilson
The distinction between "formal" and "informal" jobs and enterprises was first introduced in the 1970s and has been very widely used ever since.  The underlying assumption was that the formal economy would gradually expand and dominate, and the informal economy would gradually disappear.  The reality, however, associated with neoliberal economic development and growing socio-economic inequality, is that the informal economy has persisted and sometimes grown, and that job security and benefits in the formal economy have often diminished.
View large interactive map – click here.
LATIN AMERICAN PERSPECTIVES:
A Journal on Capitalism and Socialism