LATIN AMERICAN PERSPECTIVES
is a theoretical and scholarly journal for discussion and debate on the political economy of capitalism, imperialism, and socialism in the Americas. For more than forty years, it has published timely, progressive analyses of the social forces shaping contemporary Latin America.
MISSION: To encourage class analysis of sociocultural realities and political strategies to transform Latin American sociopolitical structures. We make a conscious effort to publish a diversity of political viewpoints.
BLOG
LATIN AMERICAN PERSPECTIVES: a scholarly journal
LAP Journals (six per year) are grouped below in a slider (click arrows).

For more information, to view contents or to purchase an issue – click on the journal.

To view or purchase from the entire collection from 2007 –

CLICK HERE

.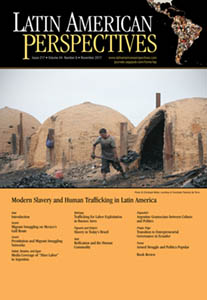 Modern Slavery and Human Trafficking in Latin America
— CONTENTS —

English
Spanish

Edited by:
Daniela Issa

Modern slavery and human trafficking affect an estimated 1.8 million people in Latin America and the Caribbean today yet remain significantly understudied given their devastating human consequences. This issue addresses this gap in the slavery and trafficking scholarship by taking a critical look at it across the region and situating it within the transnational capitalist economy. Articles include theoretical analyses of the phenomenon as well as recruitment practices, populations susceptible to being enslaved/trafficking, and the role of violence.
View large interactive map – click here.
LATIN AMERICAN PERSPECTIVES:
A Journal on Capitalism and Socialism