LATIN AMERICAN PERSPECTIVES
is a theoretical and scholarly journal for discussion and debate on the political economy of capitalism, imperialism, and socialism in the Americas. For more than forty years, it has published timely, progressive analyses of the social forces shaping contemporary Latin America.
MISSION: To encourage class analysis of sociocultural realities and political strategies to transform Latin American sociopolitical structures. We make a conscious effort to publish a diversity of political viewpoints.
BLOG
LATIN AMERICAN PERSPECTIVES: a scholarly journal
LAP Journals (six per year) are grouped below in a slider (click arrows).

For more information, to view contents or to purchase an issue – click on the journal.

To view or purchase from the entire collection from 2007 –

CLICK HERE

.

— CONTENTS —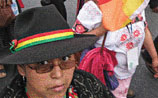 This issue engages in a discussion of the political economy of the Latin American region by means of a wide ranging and trenchant analysis by Argentine scholar Claudio Katz focused on the dualities represented by post-neoliberal and commodities consensus policies and solicited responses from other Latin American experts.  The issue also features the application by Ronoldo Munck of the thinking of Mariategui, Gramsci, and Polanyi to the issues confronted by the region today; the publication of Rodolfo Stavenhagen's Michael Kearny Memorial lecture dealing with the injurious impact of Mexican policy on its indigenous people and the need for radical committed anthropologists; and a survey of regional integration measures.
View large interactive map – click here.
LATIN AMERICAN PERSPECTIVES:
A Journal on Capitalism and Socialism