LATIN AMERICAN PERSPECTIVES
is a theoretical and scholarly journal for discussion and debate on the political economy of capitalism, imperialism, and socialism in the Americas. For more than forty years, it has published timely, progressive analyses of the social forces shaping contemporary Latin America.
MISSION: To encourage class analysis of sociocultural realities and political strategies to transform Latin American sociopolitical structures. We make a conscious effort to publish a diversity of political viewpoints.
BLOG
LATIN AMERICAN PERSPECTIVES: a scholarly journal
LAP Journals (six per year) are grouped below in a slider (click arrows).

For more information, to view contents or to purchase an issue – click on the journal.

To view or purchase from the entire collection from 2007 –

CLICK HERE

.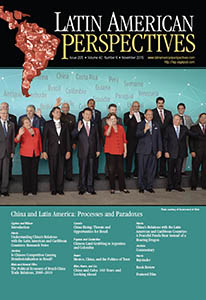 China and Latin America:
Processes and Paradoxes

— CONTENTS —

English
Spanish
editors: Tamar Diana Wilson and James M. Cypher |
This issue focuses on the economic ties between China and Latin America, with special attention given to trade and investments. It also touches on the political dimension of China's relations with Latin America.  Some of the articles seem to point out a new dependency, now no longer on the North, but on China, since most Latin American exports to China consist of primary products, especially agricultural and mineral. Others stress a complementarity between the Chinese and the Latin American economies. Three articles are concerned with China's relationship with Brazil, for whom China is the number one trading partner.  Other articles deal with Argentina and Colombia, Mexico, and Cuba.
View large interactive map – click here.
LATIN AMERICAN PERSPECTIVES:
A Journal on Capitalism and Socialism