LATIN AMERICAN PERSPECTIVES
is a theoretical and scholarly journal for discussion and debate on the political economy of capitalism, imperialism, and socialism in the Americas. For more than forty years, it has published timely, progressive analyses of the social forces shaping contemporary Latin America.
MISSION: To encourage class analysis of sociocultural realities and political strategies to transform Latin American sociopolitical structures. We make a conscious effort to publish a diversity of political viewpoints.
BLOG
LATIN AMERICAN PERSPECTIVES: a scholarly journal
LAP Journals (six per year) are grouped below in a slider (click arrows).

For more information, to view contents or to purchase an issue – click on the journal.

To view or purchase from the entire collection from 2007 –

CLICK HERE

.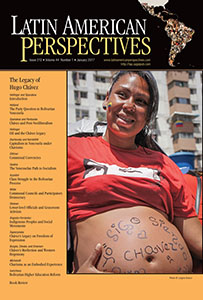 The Legacy of Hugo Chávez
January 1, 2017
— CONTENTS —

English
Spanish

Edited by: Daniel Hellinger and Anthony Petros Spanakos

The purpose of this special issue is contribute to a better understanding of the possibilities and limits of the Bolivarian project, ranging from democratic innovations to economic experimentation, from alternative economic integration to the role of charisma in revolutionary politics. Contributions include analysis of what it means to be a citizen in a post-neoliberal democracy in Venezuela; the extent to which Chavismo achieved a real redistribution of socio-economic and political power in Venezuela; lessons for other countries dependent upon extraction…
View large interactive map – click here.
LATIN AMERICAN PERSPECTIVES:
A Journal on Capitalism and Socialism