LATIN AMERICAN PERSPECTIVES
is a theoretical and scholarly journal for discussion and debate on the political economy of capitalism, imperialism, and socialism in the Americas. For more than forty years, it has published timely, progressive analyses of the social forces shaping contemporary Latin America.
MISSION: To encourage class analysis of sociocultural realities and political strategies to transform Latin American sociopolitical structures. We make a conscious effort to publish a diversity of political viewpoints.
BLOG
LATIN AMERICAN PERSPECTIVES: a scholarly journal
LAP Journals (six per year) are grouped below in a slider (click arrows).

For more information, to view contents or to purchase an issue – click on the journal.

To view or purchase from the entire collection from 2007 –

CLICK HERE

.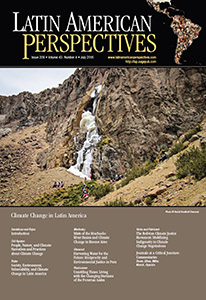 Climate Change in Latin America
July 1, 2016
— CONTENTS —

Spanish
Issue Editors: Andrea Santelices Spikin and Jorge Rojas Hernández
This issue provides a counterpoint to the global and diplomatic drama of the Paris climate negotiations by offering a territorialized, bottom-up approach that breaks with the asymmetrical "North-South" logic of (developed) winners and (less developed) losers. The articles describe local governance strategies, based on effective responses rather than victimhood, that suggest a paradigm shift in how to conceptualize citizen particiation, especially in relation to water use and rights.
View large interactive map – click here.
LATIN AMERICAN PERSPECTIVES:
A Journal on Capitalism and Socialism